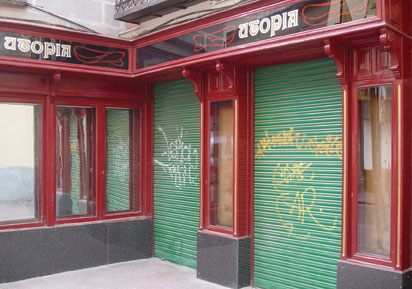 During rambling through the neighbourhood Lavapiés, where I lived in Madrid, I've found this empty, disused space called UTOPIA.
As a "country of nowhere" utopia is mentioned in a dictionary. Nevertheless for this country exists endless concepts that are possible to differ of a plain impossibility, as Robert Musil argues, because one can dissolve a possibility of the contemporary, prevented complications and grant its development.
Beginning of 2006 I've decided to print 500 photopostcards, that were distributed in its neighbourhood and mailed to people attempting to trigger thoughts about utopia. This blog got created in 2007: All the received answers are presented and interested people can react on them and blog their own ideas.
Caminando por el barrio de Lavapiés, donde viví por un tiempo en Madrid, encontré este sitio; un local cerrado y en desuso llamado UTOPIA.
Como el "país de ningún lugar" se define en cierto diccionario el termino Utopía. Sin embargo existen innumerables acepciones para este país, mismas que pueden diferenciarse de una simple imposibilidad, tal y como lo argumenta Robert Musil, siempre y cuando uno sea capaz de disociar la posibilidad dentro del sin fin de complicaciones, y conceder así certidumbre a su desarrollo.
A principios del 2006 decidí imprimir 500 postales con la fotografía del sitio. Las postales fueron distribuidas en el barrio y via correo postal a personas conocidas, buscando desencadenar ideas relacionadas con utopía. Esta página blog fue creada en 2007: Todas las ideas recibidas estan presentes y así la gente interesada puede reaccionar y comentar directamente cada una e incluso contribuir con sus propias ideas.
Während ich durch das Viertel Lavapiés, in dem ich für eine Zeit in Madrid lebte, wanderte, entdeckte ich diesen leerstehenden Kaufladen mit dem Namen UTOPIA.
Als "Land das nirgends ist" können wir Utopie im Wörterbuch finden. Dass für dieses Land trotzdem unzählige Entwürfe existieren, dass es sich von einer blossen Unmöglichkeit zu unterscheiden vermag, macht Robert Musil daran fest, dass man eine Möglichkeit aus ihren gegenwärtigen, verhindernden Verflechtungen lösen und ihr Entwicklung gewähren kann.
Anfang 2006 entschied ich mich 500 Postkarten drucken zu lassen, sie wurden in der Nachbarschaft verteilt und an an Leute verschickt, um Gedanken über Utopie anzuregen. Im Jahr 2007 wurde dieses Blog eröffnet: Alle erhaltenen Antworten sind präsentiert und Interessierte können auf diese reagieren und auch ihre eigenen Ideen bloggen.