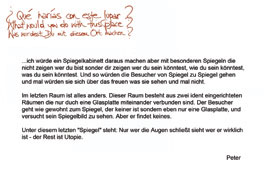 … I would make a hall of mirrors out of it, but with special mirrows that don't show how you are, instead they show who you could be, how you could be, what you could be. The visitors would thus be walking from one mirrow to the next and once they would see what they're pleased about and other times not.
In the last room everything is different. This room is composed of two identical rooms that are conneted with each other only with a pane of glass. The visitor is going as usual to the mirrow, that isn't one, instead a pane of glass, and s/he is trying to see his/her reflexion. But s/he doesn't find one.
Below this last "mirror" is written: Only the one who is closing his/her eyes is able to see who s/he is him/herself truly – the rest is utopia.
… yo haria un laberinto de espejos, pero con espejos especiales que no te muestran como eres, en vez te muestran quién serías, cómo serías, lo que serías. Así los visitantes caminarían de un espejo a otro, y en ocasiones les gustaría lo que verían, y en otras no.
En el último cuarto todo es diferente. Este cuarto está compuesto de dos cuartos iguales que están conectados por una placa de vidrio. Los visitantes caminan como de costumbre a un espejo, pero no lo es, sino una placa de vidrio, y el/ella trata de ver su reflejo. Pero no lo encuentra.
Debajo de éste último espejo está escrito: Sólo quién cierra sus ojos ve quién es en verdad – el resto es utopía.
…ich würde ein Spiegelkabinett daraus machen aber mit besonderen Spiegeln die nicht zeigen wer du bist sonder dir zeigen wer du sein könntest, wie du sein könntest, was du sein könntest. Und so würden die Besucher von Spiegel zu Spiegel gehen und mal würden sie sich über das freuen was sie sehen und mal nicht.
Im letzten Raum ist alles anders. Dieser Raum besteht aus zwei ident eingerichteten Räumen die nur duch eine Glasplatte miteinander verbunden sind. Der Besucher geht wie gewohnt zum Spiegel, der keiner ist sondern eben nur eine Glasplatte, und versucht sein Spiegelbild zu sehen. Aber er findet keines.
Unter diesem letzten "Spiegel" steht: Nur wer die Augen schließt sieht wer er wirklich ist – der Rest ist Utopie.