Monthly Archive for March, 2008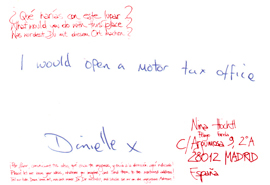 I would open a motor tax office
Yo abriría una oficina de impuesto vehicular
Ich würde eine Motorsteuerbehörde eröffnen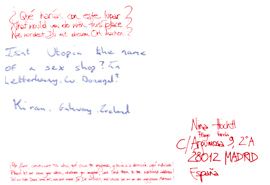 Isnt't Utopia the name of a sex shop? In Letterhenry, Co. Donegal?
¿No es Utopia el nombre de una tienda de sexo? En Letterhenry, Co. Donegal?
Ist Utopia nicht der Name eines Sexshops? In Letterhenry, Co. Donegal?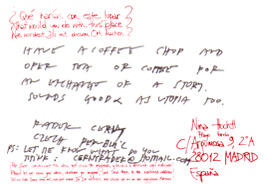 HAVE A COFFEE SHOP AND OFER TEA OR COFFEE FOR AN EXCHANGE OF A STORY. SOUNDS GOOD AS UTOPIA TOO.
PS: LET ME KNOW WHAT DO YOU THINK: cernyradek@hotmail.com
UN CAFÉ, DONDE SE OFRECE TÉ O CAFÉ EN INTERCAMBIO POR UN CUENTO. SUENA BIEN COMO UTOPIA TAMBIÉN.
PS: DIME QUÉ PIENSAS: cernyradek@hotmail.com
EIN KAFFEEHAUS, WO TEE ODER KAFFEE IM AUSTAUSCH EINER GESCHICHTE ANGEBOTEN WIRD. DAS KLINGT AUCH GUT ALS UTOPIA.
PS: LASS MICH WISSEN WAS DU DENKST: cernyradek@hotmail.com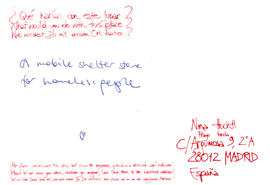 A mobile shelter store for homeless people
Una tienda móvil, refugio para gente desamparada
Ein mobiles Zufluchtsgeschäft für obdachlose Menschen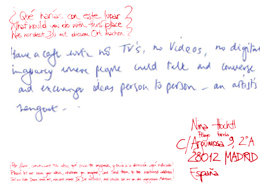 Have a cafe with no TV's, no videos, no digital imagarey where people could talk and converse and exchange ideas person to person – an artist's hangout.
Un cafe sin television, sin videos, sin imágenes digitales, donde la gente pueda hablar y comunicarse, intercambiar ideas persona a persona – un lugar de reunión para artistas.
Habe ein Kaffee ohne TV, ohne Videos, ohne digitalen Bildern Menschen können Person zu Person sprechen und kommunizieren und Ideen austauschen – ein KünstlerInnen Treffpunkt.