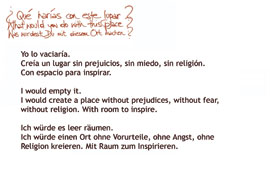 I would empty it.
I would create a place without prejudices, without fear, without religion.
With room to inspire.
Yo lo vaciaría.
Creía un lugar sin prejuicios, sin miedo, sin religión.
Con espacio para inspirar.
Ich würde es leer räumen.
Ich würde einen Ort ohne Vorurteile, ohne Angst, ohne Religion kreieren.
Mit Raum zum Inspirieren.