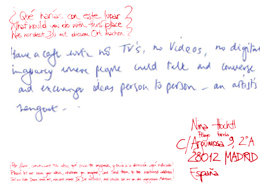 Have a cafe with no TV's, no videos, no digital imagarey where people could talk and converse and exchange ideas person to person – an artist's hangout.
Un cafe sin television, sin videos, sin imágenes digitales, donde la gente pueda hablar y comunicarse, intercambiar ideas persona a persona – un lugar de reunión para artistas.
Habe ein Kaffee ohne TV, ohne Videos, ohne digitalen Bildern Menschen können Person zu Person sprechen und kommunizieren und Ideen austauschen – ein KünstlerInnen Treffpunkt.